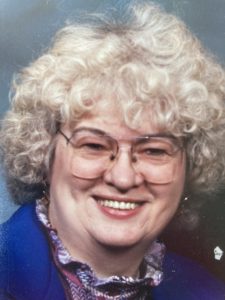 Barbara "Fritz" Ann Greub (Freie), age 81 of River Falls, WI passed away at the Pine Ridge Gardens Memory Care Home in Hudson, WI on November 5, 2020. She was born on April 19, 1939 in Latimer, Iowa, the daughter of Raymond and Alma Freie. She graduated as valedictorian from Franklin Consolidated (Latimer-Coulter) High School in 1957. She went on to earn a B.S. degree in Agronomy from Iowa State University, the first female to receive that degree from ISU. Following graduation, she worked as the lab manager and field project work coordinator for Professor Walter Wedin at ISU. There, she met one of his graduate students, Louis (Lou) Greub. Barb and Lou were united in marriage on June 12, 1965.
The couple moved to River Falls, WI in 1968 after Lou received his PhD degree and joined the faculty as an agronomist at the Wisconsin State College-River Falls (now, UW-River Falls). Barb worked at various jobs over the years – student registration assistant and computer programing at the college, secretary at First Congregational UCC Church, assistant to an audiologist, and then becoming a licensed audiologist. Later she was the office manager for Lupke Oil Company in Hudson, WI, and went on to manage the company for two years after Mr. Lupke's death. During retirement, she devoted three years to the office duties of the Pierce County Dems. She loved working in an office environment: organizing, processing data/information, and bringing those operations into the computer age. She became a whiz with computers and had one of the original Radio Shack TRS-80 models. She was always ready to upgrade and even built one of her early computers.
She enjoyed and became very proficient with many crafts – stained glass ornaments, Temari balls, knitting machine work, and calligraphy. She also designed, drew up the plans for, and helped build a large addition to the Greub home at one point. In her later years, before Alzheimer's curbed her abilities, she loved doing Sudoku puzzles.
Barb and Lou enjoyed traveling to many parts of the U.S (including Hawaii and Alaska), and several countries in Europe. The family enjoyed many fishing/camping trips to northern Wisconsin. Her favorite music was bluegrass, but she very much tolerated and supported Lou's pursuit of polka music and learning to play the concertina. At one of Lou's Czech Area Concertina Club presentations she was overheard telling one of her old college friends that "the last thing I ever thought I would be doing is following a musician around the country". She also approved of his Ham radio hobby and built one of his first transceivers from a Heathkit kit. She was an excellent typist and did much of the manuscript typing for books and scientific papers that Lou wrote in connection with his faculty position. Her annual Christmas letters to relatives and friends were always eagerly awaited because of her humorous and entertaining descriptive skills. She embraced holistic medicine, was an organic food health enthusiast, and rarely ill.
She was preceded in death by her parents and her brother, Gary. She is survived by her husband of 55 years, Lou, daughters Cherie Richter of Madison, WI and Becca Greub of Cadott, WI, and granddaughters Emily and Rachel Richter of Madison, WI. Her sister-in-law Janet Freie, niece Cara (Freie) Zolotor and nephew Jordan Freie and family all reside in Missouri.
A Memorial Service was held on Saturday, July 17, 2021 at 11:00AM at First Congregational Church (110 North 3rd Street) in River Falls with a visitation one hour prior to the service and streamed live through the link just below this obituary.  Please wear something comfortable and colorful.  In lieu of flowers the family requests that memorial gifts go to the Alzheimer's Association.  Funeral arrangements are being handled by Bakken-Young Funeral and Cremation Services 805 E Division Street PO Box 431 River Falls.
click here to watch the recording of Barbara's service.
Written by Cherie (Greub) Richter in memory of my mother. June 2021
You are reading this because I cannot guarantee that I can read this aloud without my emotions getting the best of me.
My mom never wanted a funeral.
For as long as I can remember, she has consistently reminded us that she wanted to be cremated and that was it; the clear implication was that no other fuss was to be made about her.
Each time, my sister and I would roll our eyes because we didn't think we needed to be reminded so often about something that seemed 'so far off' and Life Without Mom was not something we wanted to even think about.
So here we are at that time that we didn't ever want to think about. And those of us left behind have lots to say and remember about her. And some of us WANT to 'make a fuss' about this remarkable woman who was such a source of light and laughter but did not like being in the spotlight. So we are getting around this "no funeral" decree via a 'technicality'…..by calling it a Celebration of Life, which will include bright colors, butterflies and as much laughter as possible.
By the way, it's not easy to out-smart my mom, as it takes 3 of us! To my knowledge, we've only succeeded in out-smarting her one other time. Now granted, we also had a small orange stray kitten on our side, but it still counts!
Speaking of smart, I have often told people that my mom is the smartest woman I know.
I understand my mom was valedictorian of her high school class and one of the first women to graduate in her field of study at Iowa State University, but that is not how I know her to be smart.
I know her to be smart by everything she taught herself to do and taught me to do. So while she was obviously smart in school and has held many different job titles in her life, in OUR world she was the household Project Manager, IT and Human Resources all rolled into one.
As Project Manager, she was often the one clever enough to figure out the MOST efficient and functional end-solution to whatever task needed to be done around the house. She would either educate herself on how to do it herself, or direct the 'workers', keep them on-task and remove impediments to ensure timely completion. One time I recall that we had to wait until one 'impediment' had left for his trip overseas so that she and I and my sister could repaint the house. She was excellent at listening to what was needed, looking at it from all angles, working out a solution and then directing my dad to 'make it happen'. A prime example of this was when she and my dad would come to Madison to help out with the twins and various projects around the house. I mentioned that I needed to think of a way to create two bedrooms out of one giant space for the girls. Before I knew it, she and my dad had designed and crafted one of
the MOST clever/functional 'doorways' I had ever seen, a wall-length secret passage-esque folding bookshelf!
She was our family's IT department. She embraced computers the second you could buy one and taught herself everything there was to know. She organized all household 'business' on the computer and set up educational games for my sister and I to play, including a game that taught us how to type. She sent me off to college with a fully equipped 'CPU' and I often had to call home in a panic to have her walk me through the 'back-slashes' and 'directories' so that I could find the paper that had just saved SOMEwhere but I could no longer find ANYwhere. Dad ROUTINELY had to call her over from her home desk area to his home desk area for IT assistance. It just was not as intuitive for all of us as it was for her. Her brain WAS a computer! Incidentally, I believe my mom probably thought up the basic concept of firewalls before firewalls existed, because she effectively had to craft one to keep one of us from accidentally screwing up her intricate web of file/network organization.
As Human Resources, my mom was there for you, ready to help. If you showed any interest in learning something, she was right there to facilitate whatever needed to happen to make that happen. Wanna maybe learn the drums? Okay, she will find a second hand drum set and get it set up in the basement for you to mess around on. Wanna learn about bugs? Okay, she will find a microscope and set up a makeshift workbench in the wood room downstairs so that you can collect them from one side of the room and then spin around in your chair to study them on the other side of the room. Wanna redecorate your bedroom? Okay, she will teach you how to estimate the amount of wallpaper and paint needed and then help you hang the paper and paint /cut the wood trim.
Now my mom and dad made a pretty excellent team, so it's sometimes tricky to sort out which parent taught me what but I'm pretty sure my mom gets full credit for the following.
My mom taught me how to cook. Indirectly. Because she could not.
Our formal lessons ended at Peanut Butter and Jelly 101. My sister and I became increasingly wary when my mom 'made dinner'. After a few meals of things like 'macaroni and cheese' (which looked NOTHING like Kraft macaroni and cheese) or 'potato pancakes' (which tasted NOTHING like pancakes), we learned that we were pretty much guinea pigs as all of my mom's concoctions were experiments. One simply cannot substitute powdered milk for real milk, or carob chocolate for real chocolate without scarring your children for life! Turns out she was more than happy to have us all shop for our own food and fend for ourselves at mealtime. (Hmmm…now that I think about this from a mom's workload perspective, I believe she may have feigned incompetence ON PURPOSE!)
Her other trick to ensure that we helped out around the house, was to steal the channel- switching knob from the television and not give it back until the list of chores she had posted was complete. This was 'back in the day' when there was only one TV in the house, only 4 channels to watch and no remotes. So the chores got done. She also designed our allowance to be built around chores. There would be a small standard amount, but we could beef it up by doing piece-meal work, like loads of laundry, folding towels and ironing dad's shirts. The more we did, the more we earned! (I'm guessing she came across this parenting strategy in one of those books she was always reading!)
My mom was a voracious reader. I would say that reading was her number one hobby and that she has read thousands of books over her lifetime. If she wasn't reading for fun, then she was reading for learning… a book in one hand and a set of post-its and highlighters in the other. One of my fondest memories is reading with my mom on fishing trips. Fishing out in the boat with dad was of course the primary reason for the trip, but when it was rainy, we would sit inside the camper and just read. ALL. DAY. There was a second-hand bookstore near the campground, where we would always stop at and buy a grocery bag full of books for super cheap to have on hand 'just in case'.
My mom was an organizer. Everything had its place, everything was labeled and everything was handy, ready-for-use. Just by way of one example, there were multiple mini-office 'depots' set up all through the house, because you just never knew when you might need an alligator clip, post-it note, tape, sharpie markers or scissors. Even the cars had supply depots.
My mom was creative and crafty: name a craft and she's done it. And by 'done it', I mean IMMERSED herself in it. Researched it, figured out how to do it via a class, a book and/or the internet. Obtained every gadget/tool/material needed to do it. AND, if said craft/hobby was able to be hyper-organized into a Rubbermaid tote, all the better. Because then, she could work on it wherever she went. She loved when she could make crafts to give away to friends/relatives.
And speaking of friends, my mom had so many friends whom she loved. Old ones, new ones! Growing up, it seemed like my mom knew EVERYONE. There were many times I chose to tag along with my mom when she got together with friends. There was always so much laughter and positive and creative energy flowing among them. Her friends and relatives were a huge source of support and joy for her.
Finally, my mom was funny. She had an amazing sense of playfulness and humor about her. One time she made me laugh so hard that I chipped my front tooth. The joke required her to smush her face together while telling a story in a little kid voice. I was laughing so hard, tears were streaming down my face. When I doubled over to grab my stomach which hurt so much from laughing so hard, I didn't see the chair directly below me and I hit my tooth on the back of it.
There were hints of her humor and wisdom even towards the very end. Which greatly helped to find a quick connection to her when we were losing connections in so many other ways. The irony that Alzheimer's was the thing that she had to battle at the end is hard to comprehend/process. Essentially her mind took on her mind. We could tell she was still trying to figure out what she knew she was not figuring out. The fears she encountered and subsequent bravery in the face of something that was taking something most precious from her is staggering to think about. We are grateful that the worst part of her battle was relatively short and pray that she is now at her peace. Which for all we know means, reading a book, solving Sudoku puzzles, and maybe mildly irritated that we are making a 'fuss' with our memories, bright colors and butterflies.