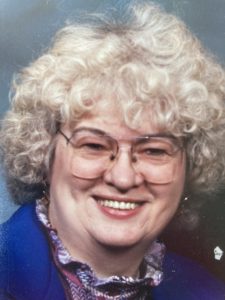 Barbara "Fritz" Ann Greub (Freie), age 81 of River Falls, WI passed away at the Pine Ridge Gardens Memory Care Home in Hudson, WI on November 5, 2020. She was born on April 19, 1939 in Latimer, Iowa, the daughter of Raymond and Alma Freie. She graduated as valedictorian from Franklin Consolidated (Latimer-Coulter) High School in 1957. She went on to earn a B.S. degree in Agronomy from Iowa State University, the first female to receive that degree from ISU. Following graduation, she worked as the lab manager and field project work coordinator for Professor Walter Wedin at ISU. There, she met one of his graduate students, Louis (Lou) Greub. Barb and Lou were united in marriage on June 12, 1965.
The couple moved to River Falls, WI in 1968 after Lou received his PhD degree and joined the faculty as an agronomist at the Wisconsin State College-River Falls (now, UW-River Falls). Barb worked at various jobs over the years – student registration assistant and computer programing at the college, secretary at First Congregational UCC Church, assistant to an audiologist, and then becoming a licensed audiologist. Later she was the office manager for Lupke Oil Company in Hudson, WI, and went on to manage the company for two years after Mr. Lupke's death. During retirement, she devoted three years to the office duties of the Pierce County Dems. She loved working in an office environment: organizing, processing data/information, and bringing those operations into the computer age. She became a whiz with computers and had one of the original Radio Shack TRS-80 models. She was always ready to upgrade and even built one of her early computers.
She enjoyed and became very proficient with many crafts – stained glass ornaments, Temari balls, knitting machine work, and calligraphy. She also designed, drew up the plans for, and helped build a large addition to the Greub home at one point. In her later years, before Alzheimer's curbed her abilities, she loved doing Sudoku puzzles.
Barb and Lou enjoyed traveling to many parts of the U.S (including Hawaii and Alaska), and several countries in Europe. The family enjoyed many fishing/camping trips to northern Wisconsin. Her favorite music was bluegrass, but she very much tolerated and supported Lou's pursuit of polka music and learning to play the concertina. At one of Lou's Czech Area Concertina Club presentations she was overheard telling one of her old college friends that "the last thing I ever thought I would be doing is following a musician around the country". She also approved of his Ham radio hobby and built one of his first transceivers from a Heathkit kit. She was an excellent typist and did much of the manuscript typing for books and scientific papers that Lou wrote in connection with his faculty position. Her annual Christmas letters to relatives and friends were always eagerly awaited because of her humorous and entertaining descriptive skills. She embraced holistic medicine, was an organic food health enthusiast, and rarely ill.
She was preceded in death by her parents and her brother, Gary. She is survived by her husband of 55 years, Lou, daughters Cherie Richter of Madison, WI and Becca Greub of Cadott, WI, and granddaughters Emily and Rachel Richter of Madison, WI. Her sister-in-law Janet Freie, niece Cara (Freie) Zolotor and nephew Jordan Freie and family all reside in Missouri.
A Memorial Service is being planned for Saturday, July 17, 2021. Please check back here for more detail about the service as it becomes available.  In lieu of flowers the family requests that memorial gifts go to the Alzheimer's Association.  Funeral arrangements are being handled by Bakken-Young Funeral and Cremation Services 805 E Division Street PO Box 431 River Falls.