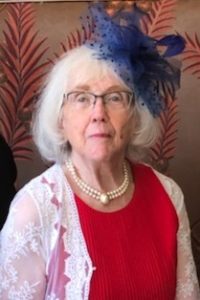 Barb Wall (Barbara Leigh Campbell Wall) passed away in her own home on Monday, November 8, 2021.  A well-known, beloved educator and piano teacher, she spread the gift of music wherever she went. Walking on the Kinni pathway, at coffee with friends, on oversea travels or adventures with her daughters, Barb never missed a beat.
Born in Greenville County, South Carolina on June 29, 1937, Barb was the only daughter in a family with four brothers.  She graduated high school in 1955.  She earned degrees from Lees McRae College – Class of 1959 (Banner Elk, NC); Berea College – Class of 1962 (Berea, KY); and a masters from Scarritt College – Class of 1963 (Nashville, TN).
She brought her Southern charisma to Wisconsin via an invitation from the United Methodist Church and also taught music in the Roberts school district before getting married and starting a family. As Christian Education Director at the church, she also led countless colorful and lively performances of Bible stories with the Children's Choir.
She directed countless choral concerts, Children's Choir and all-grade school concerts at the local public schools for decades.  She was the first music teacher at Rocky Branch Elementary School – a post she held until she retired in 2003.  Barb was a Nationally Certified Teacher of Music with MTNA and taught private piano lessons well into her eighties, inspired by her childhood piano teacher, Mrs. Clara Heath.  Barb was a proud member of the St. Croix Valley Piano Teacher's Association, earning the 400-point Teacher Award of Excellence and 2019 Member of the Year.
Barb was an incredible word smith and could slay any crossword puzzle in the daily newspaper. An avid reader, she was in multiple book groups and kept the library staff busy with her weekly list of requests. She had many a whirl wind adventures that took her from missions in Mexico, to the beach of Southern France to riding Segways in Philadelphia. More recently you could find her making an annual trek to North Carolina to spend Thanksgiving with her daughters.
Barb loved to laugh and her spirit was effervescent.  She led a life modeled after Christ investing in and loving people.   She was a beloved mother, friend, teacher, mentor, honorary grandma, pen pal and woman of faith.  Her love of life and feisty determination will be fiercely missed.
Barb was preceded in death by: her parents, Clinton and Falbia Campbell; brothers Clifton Joe Campbell, Charles William (Billy) Campbell and Jack Leroy (Jackie) Campbell; former in-laws, Raymond and Marguerite Wall, and her long-time companion Ray Anderson.
Barb is survived by her two daughters, Janet Wall and JoEllen Wall; former husband, Richard Wall; brother Jerry Campbell; sister-in-laws, Jeanne (Wall) Lee, Marilyn Wall, Barbara (Sizemore) Campbell, Elaine Campbell; many nieces and nephews; and generations of people filled with music in their hearts.
In lieu of flowers, memorial donations may be made to the American Heart Association at www.heart.org.
A memorial service was held on Saturday, November 13, 2021 at 12:00 noon at Spirit of Grace Church (127 S 2nd Street) in River Falls.  Face masks were required. The service was livestreamed. Visitation was also on Saturday from 10:00-12:00 noon at the church.  Arrangements are with Bakken-Young Funeral & Cremation Services.