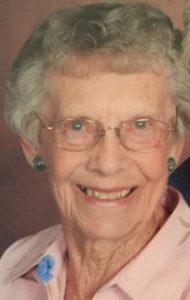 Audrey C. Frye, age 92 of New Richmond, WI died Tuesday, July 24, 2018 at the St. Croix Health Center. She was a loving mother, grandmother, and great-grandmother. She was born the daughter of Harold and Ruth on July 4, 1926 in St. Paul, MN. Audrey went to Humboldt High School in St. Paul graduating, class of 1944. She married Cyrel Frye on April 28, 1978. While living in New Richmond, Audrey worked for Krugers as a bookkeeper. Audrey loved volunteering at First Lutheran Church, American Legion, and the Hospital gift shop. Her hobbies included playing cards especially Bridge, 500, and poker. She enjoyed camping, travelling, gardening, and spending time with her loving friends and family. She loved watching and cheering on her Minnesota Twins and Vikings.
She is preceded in death by her loving husband of 36 years, Cyrel Frye; her parents, Harold and Ruth; sisters, Lorraine and Marion Astrup; and many other relatives and friends. She is survived by her son, Keith Golburg; grandchildren, Brandon (Jessie) Golburg and Cassandra Golburg; three great-grandchildren; and several nephews. She is also survived by her stepchildren, Sheryl Harwood, Linda (Mike) Sager, Laure (Greg) Olson, Rick (Joan) Frye, Tom (Vanessa) Frye, Joe (Joanne) Frye, and Elizabeth Frye; numerous step grandchildren and step great-grandchildren; as well as many other relatives and friends. A special thanks to the staff at the St. Croix Health Center for their unconditional love and support during her stay and also to Bonnie and Janet Stoltz.
A Memorial Service was held Wednesday, August 1, 2018 at 11:00 AM at First Lutheran Church (218 County Road K New Richmond, WI 54017) with visitation one hour prior to the service. Interment was in Oakland Cemetery in Star Prairie, WI. Arrangements are with Bakken-Young Funeral & Cremation Services Beebe Chapel of New Richmond.