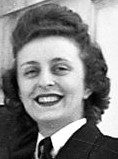 Athalie Ann (Van Vonderen) Mueller, died in Ellsworth, Wisconsin on June 28th 2017, at the age of 94. Athalie was born in Lena, Wisconsin on April 29rd 1923, and spent her childhood and adolescence in Lena and Coleman, Wisconsin.  Her parents were Charlotte (Feak) Van Vonderen (d. 1997) and Joseph Earl Van Vonderen (d. 1976).  Athalie had four siblings, all very dear to her: Carl (d. 2001, Elva d. 2012); Robert (Florence d. 2011); Vernon (Nancy); and Sandra Huberty (Carl).  Athalie was also particularly close to her dear "Grandma Feak", Henrietta (Wise) Feak (d. 1956) of Lena.   Athalie was a graduate of Coleman High School, where she had many friends and where she was a member of the Wisconsin State Champion Colemanettes basketball team.
Athalie began nurse's training in 1941 in Milwaukee at Mt. Sinai Hospital, graduating as a Registered Nurse.  During World War II, she served in the Navy Nurse Corps with the rank of ensign, stationed at Great Lakes Naval Air Station in Chicago, receiving an honorable discharge in 1946.  As a young woman, she pursued her nursing career, living for a time in Redwood City, California; Miami, Florida; Madison, Wisconsin; and back to Milwaukee, where she entered pre-medical training at Marquette University.  She applied and was admitted to Marquette University Medical School, a remarkable achievement in a period of time when few women were admitted.
Athalie married Bruce Cap Mueller (d. 2004) in Coleman in 1954.  Athalie and Bruce lived in Brown Deer, Wisconsin; Indianapolis, Indiana; and Elk Grove Village, Illinois.  They were divorced in 1965.  Athalie and Bruce had four children, three of whom survive her: Mark (Joanne), William, and Lisa; and a child who died in infancy: Todd (d. 1958).  Athalie is also survived by four grandchildren:  Lisa's children Dylan and Maya Merchant; and William's children Eli and Neil Mueller.
Athalie lived with her children for many years in Middleton and Madison, Wisconsin. She worked during much of that time at Mendota State Hospital (now Mendota Mental Health Institute) as a psychiatric nurse and, for most of her career there, as a nursing supervisor.  After her children were grown, Athalie moved to Sister Bay, Wisconsin where she lived for several years, and then on to the area of River Falls and Ellsworth, Wisconsin, where she spent her final years living close to her daughter.
Athalie enjoyed traveling and seeing new places.  She enjoyed conversation and the company of family and friends, but was also at peace in moments of solitude.  She was a mean Scrabble player, and she always played to win.  Athalie took care of many, many people over her lifetime, as a nurse, mother, daughter, sister, and friend.  She was a strong, independent, intelligent woman, and a keen observer of people.  She was filled with love, empathy, and compassion for those who were close to her, and she lives on in our hearts.
A memorial service was held at 11:00 a.m. on Friday, July 21st, at English Lutheran Church in Ellsworth, Wisconsin.  The funeral service and burial was held in Lena, Wisconsin at 11:00 a.m. on Sunday, July 23rd, at the Lena Cemetery.  Please contact Bakken-Young Funeral Services in River Falls, Wisconsin for further information.