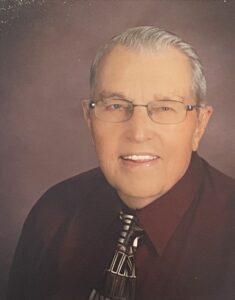 Arnold "Arnie" Roen, age 101, died on Saturday, November 12, 2022 at the Hammond Health Services in Hammond, WI. He was born the son of Melvin and Helga nee Borgerson Roen on January 27, 1921 in River Falls on the family farm. Arnie grew up in River Falls attending country school. Following school, Arnie worked on the family farm until his was drafted into the US Army in August 1942 where he served for three years, three months and was honorably discharged on November 12, 1945. After serving in the US Army, Arnie went back to the family farm. Two nights after returning home, Arnie went to a dance in Ellsworth where he met the love of his life, Evelyn Kiefer. They married on November 21, 1947 in Ellsworth, WI. They were blessed with four daughters, eight grandchildren, and 13 great-grandchildren. Arnold was next to General McArthur when the flag was raised in the Philippines and stood honor guard for President Franklin Roosevelt. He loved woodworking and traveling. Arnold was hardworking humorous man and was a people person. He always wanted to do things right the first time and was a family man who loved his children. Arnold was committed to his wife, family, friends, farm, and church.
The family would like to thank the Hammond Health Services, Lakeview Hospice, Pastor David Teig and his wife, Dixie for the care and support that they provided.
Arnold is preceded in death by his wife, Evelyn; three infant grandchildren; parents, Melvin and Helga; four siblings, Harley (Doris), Marlys (Lloyd) Torkelson, Lyle, and Doris (Glenn) Knutson; sister-in-law, Deanna; and son-in-law, Fred Kennett. He is survived by his four daughters, Bonnie (Bob Haugerud) Kennett, Kathy (Bob) Swenson, LuAnn (Gary) Johnson, Karen (Barry) Danielson; eight grandchildren, Jeff and Brian Kennett, Craig and David Swenson, and Brenda Lund, Troy and Todd Johnson, Stacy Danielson; 13 great-grandchildren; brother, Kenneth; and many other relatives and friends. In lieu of flowers, memorials are preferred.
A Funeral Service was held on Saturday, November 19, 2022 at 12 noon at Rush River Lutheran Church (N8623 County Road Y River Falls, WI 54022) with a visitation starting two hours prior to the service. Interment was in Rush River Lutheran Cemetery. Military Honors were performed by the Fletcher-Pechacek American Legion Post 121 of River Falls. Arrangements are with Bakken-Young Funeral & Cremation Services.