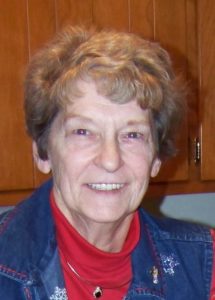 Arlene M. Place nee Graetz, age 77, of Boardman, WI died Saturday, May 5, 2018 at her home. She is preceded in death by her son, Daniel Place; parents, Joseph and Hattie Graetz; sister, Marjorie Jones; brothers, LeRoy (Margaret) Graetz, Norman Graetz, and Bernard (Delores) Graetz; nieces, Karen Graetz and Susan Jones; and nephew, Jim Graetz.
She is survived by Wayne, husband of 58 years; children, Debra Knops, Jon (Mary) Place, Joan Place, Cheryl (Mark) Schmidt, James Place, Mary Place, Michelle (Denny) LeQue, and Joseph (Erin) Place; grandchildren, James Knops, Joseph & Samuel Place, Brandon (Megan) Meister, Nathaniel Niles, Zachary & Benjamin Cahanes, Abbigail and Devin LeQue; great-grandson, Elias Meister; and many cherished nieces, nephews, relatives and friends.
Class of '58 Ellsworth High School.
Mom enjoyed being with family; Christmas was her favorite holiday. She was a lifelong Green Bay Packer fan who also loved to ride motorcycle. Mom also liked to go antique shopping, estate sales, and live auctions.
In honor of Arlene, the family invites you to attend the service wearing your favorite Green Bay Packer or Harley Davidson apparel. Motorcycles are welcomed.
Memorial Mass of Christian Burial was held Saturday, May 12, 2018 at 12 noon at Immaculate Conception Catholic Church (151 South Washington Avenue New Richmond, WI 54017) with a visitation one hour prior to the Mass. A luncheon was served after Mass at the church. Interment was in Boardman Cemetery. A celebration of Arlene's life was held at Meister's Bar and Grill in Boardman following the interment. Arrangements are with Bakken-Young Funeral & Cremation Services Beebe Chapel of New Richmond.