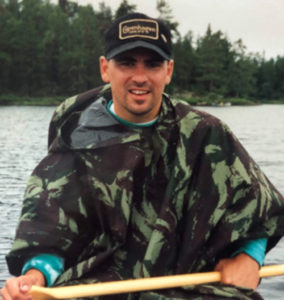 Tony James was born in Waseca, MN in 1963 to Margie and Tom James. The family then moved to Belle Plaine, MN where Tony would grow up. Tony loved sports from an early age, in high school he was a three-sport athlete lettering in Football, Basketball, and Baseball. Earning all-conference awards in Football and Baseball.
After high school, Tony attended Minnesota State Mankato, or the "Harvard of the Midwest" if you asked him. He graduated in 1985 with a Bachelor of Science in Business Administration. Tony would soon bid farewell to Minnesota and move west to Colorado where he worked in sales and explored every aspect the state had to offer. He enjoyed skiing, hiking, adventuring and meeting new people over the years he lived there.
Out of college he worked in sales for the City Pages and spent years working in insurance and real estate. However, his passion for the outdoors led him to starting his own business, James Landscaping. Being his own boss, working outside, and the ability to be creative were all things he cherished. This also allowed him to reserve time in the fall to be in the woods hiking, fishing, and hunting.
After moving back and meeting his first wife Lora, the two soon after settled down in Minnesota to start their family. They had their first son Dylan and a few years later their second child Abby. They moved to Wisconsin where he lived out the rest of his life in the home he built.
His kids were his life and he worked hard to show them how fun life can be. Tony was devoted to his family and always supported them during their life. He was their biggest fan in sports, education and anything they chose to pursue. When his kids were young, he helped coach their sports and took part in helping in any way he could. He knew when to be a parent and when to a be friend, and he was exceptional at both.
Tony was a true outdoorsman and took advantage of everything the Midwest had to offer. He enjoyed hunting, fishing, hiking, and kayaking. He loved being outside. If he could, he would be out in the woods hiking or cutting wood all the time. He knew so much about the forest, knowledge only obtainable from spending years in it. It didn't matter rain, snow, or storm. Nothing was keeping him away. He was very comfortable being uncomfortable.
Outside of the woods Tony was very active. Tony was a pool shark like no other. He never turned down a game and never let anyone win easily. He didn't want to play 1 or 2 games, he wanted to play 10 or 12. When it came to sports, he was a true renaissance man. When he was younger, he always came back to Belle Plaine to play town team baseball. When he was older his passion transitioned to slow pitch softball. He never stopped playing sports, and he never stopped being active.
He met his wife Lisa in 2017 and survived by her love, support and devotion to him. She was a wife, friend, caregiver, and partner in crime. She never gave up on him even when the times were tough.
Tony was a husband, a father, a son, a friend, a coach, and so much more. He was always there for people who needed help and would give the shirt off his back for those he cared about. Those who got close with him knew how big he could open his heart. From his jokes, his confidence, his smile, his laugh, his hugs, his advice, and his spirit. He will be truly missed.
Mass of Christian Burial will be held at a later date.  Arrangements are with Bakken-Young Funeral & Cremation Services.