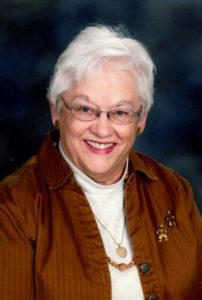 Anne McCoy Mehls, age 84
June 8, 1937 – March 18, 2022
Preceded in death by her beloved parents, a great-niece, and numerous other relatives & friends.
Survived by her loving husband Chuck and her four children: MaryBeth (Dennis), Daniel (April), David (Shannon) and Pete (Kirstin), ten grandchildren (Scott, Randy & Gretchen Raddatz), (Elizabeth, Cameron & Carlee Mehls), (Keilan & Liam Mehls), and (Amelia & Benjamin Mehls) and two great grandchildren.
Born in Sparta, WI Anne was the daughter of the late Douglas & Joan McCoy and the granddaughter of General & Ms. Robert B. McCoy. Graduating from SHS in 1955, she went on to graduate from the U of W-Eau Claire in 1959 with a B.S. degree in Education.
Following graduation, she worked as an Assistant Public Information Director for the Minneapolis/Hennepin County chapter of the American Red Cross.
On December 27th, 1960, Anne was united in marriage to Charles P. Mehls of Chippewa Falls, WI. The couple settled in New Richmond where Anne worked as a secretary for Doughboy Industries, and Wisconsin Indianhead Technical College (now known a Northwood Technical College) while raising her family.
Anne created her own business in 1967 "The Doll Closet" and continued sewing custom crafted doll clothes until her death.
She was an active volunteer at the UMC church, the New Richmond Heritage Center, Boy Scouts and Girl Scouts, Meals on Wheels Program, Westfields Hospital Gift Shop and The Square Dance Team- "the Willow Squares." She also enjoyed her various friendship groups.
An avid seamstress, she was also a long-time golfer, figure skater, traveler, and genuinely enjoyed writing/journalism. She could always be found with several books by her reading chair and belonged to the Friday Memorial Library "My Story Book Club."
A Celebration of Anne's Life was held on Wednesday, March 30, 2022 at 11 am at the New Richmond United Methodist Church 209 East Second Street, New Richmond, WI and streamed live through the link just below this obituary.  Visitation was held on Tuesday, March 29, 2022 from 4-8 pm at Bakken-Young Funeral & Cremation Services 728 S Knowles Avenue New Richmond, WI and on Wednesday from 10-11 am at the church.  Interment will be in the New Richmond Cemetery at a later date.  Arrangements are with Bakken-Young Funeral & Cremation Services.
Click here to watch the recording of Anne's service