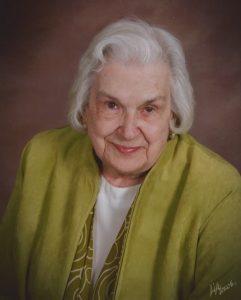 Anna (Ann) Catherine Krupkat, age 91, of River Falls, WI passed away on Wednesday, April 5th at Comfort's of Home with her daughters and son-in-laws by her side.  Ann was born to Henry and Emma Laufenberg on February 25, 1926, in River Falls.  Ann was a member of the River Falls High School class of 1944 and the UWRF (River Falls State Teachers College) class of 1948.  She married Donald Krupkat from Manitowoc, WI in July, 1952.
Ann was a dedicated member and leader of many organizations.  They included AAUW, PEO, Retired Educators, Pierce County Historical Society, Lutheran Ladies Fellowship, Ezekiel Lutheran Church Rebecca Circle along with numerous committees, and the River Falls Hospital Auxiliary.  Ann taught in the Manitowoc School System starting in 1948.  In 1962 she became a teacher at the South Milwaukee Junior High School.  She received her master's degree in Guidance and Counseling from UW-Milwaukee in 1971.  After 29 years of service to the Wisconsin Department of Public Instruction, she retired in 1987.  Upon retirement, Ann and Don moved to River Falls where Ann served for 17 years as the Volunteer Coordinator for Senior Outreach Studies at UWRF.
Ann was preceded in death by her parents, Henry and Emma Laufenberg, and her husband of 50 years, Don Krupkat, who died in January of 2003.  She is survived by her daughters Connie (Stephen) Smith of River Falls and Rachel (Dave) Blume of Oakdale, MN; grandchildren Kristi (Kyle) Easley, Laura (Brian) Campbell, Sharon (Bradley) Peterson and Erik Blume.  "GG" was adored by her great-grandchildren Sophie and Ellie Campbell and William and Paige Peterson.  She is also survived by her brother Harold (Alice) Laufenberg of Osseo, WI and several nieces and nephews.
A Funeral Service was held on Saturday, April 8, 2017 at 11 am at Ezekiel Lutheran Church 202 S 2nd Street River Falls, WI.  Visitation was also Saturday from 10-11 am at the church.  Interment was in Greenwood Cemetery in River Falls.  In lieu of flowers, the family is asking that donations be made to the Ann Laufenberg Krupkat Scholarship at UWRF, 410 S. 3rd Street or memorials at Ezekiel Lutheran Church, 202 S. 2nd Street.  Ann was an avid gardener and often said that she nurtured all the flowers she needed while she was alive.
The family wishes to thank the staff at Comforts of Home and St. Croix Hospice for their compassionate care during Ann's final days.
Arrangements are with Bakken-Young Funeral & Cremation Services of River Falls.