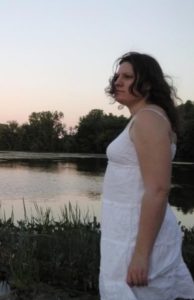 Amber Gene Tharp, age 42 of New Richmond, WI, died on Monday, January 10, 2022 at her home in New Richmond from complications of Wegener's Disease. Amber was born the favorite daughter of the four A-named girls to Gene and Nancy (Knoble) Tharp on September 23, 1979 in Prairie du Chien, WI. She grew up in New Richmond. Many a times she whipped donuts or injured her nose playing softball while attending New Richmond High School with the class of '98.
After high school Amber welcomed her son, Bryce Tharp. Amber was committed 100% to being a kickass mom, and that remained her mission for the rest of her life. She also claimed her nephew and nieces as her own often taking them on runs to Starbucks. Amber was generous with family and to those who knew her as evident by the Amazon packages that are still arriving. Her love was fierce, and often loud.
Professionally she was a stenographer.
Amber enjoyed the outdoors whether she was hiking, camping, taking scenic photos, or Pokemon-ing. She liked to play card games, especially 500. In the afterlife she fills the fourth seat with her Grandmother Leona Tharp, Uncle Dave Tharp, and Aunt Barbara Tharp Shirley as the other cards at the table. Her son, Bryce Tharp; parents, Gene and Nancy Tharp; sisters, Angela (Forrest) Williams, Andrea Tharp, and Amanda Tharp; nieces and nephew, Isaac, Lauren and Olivia; and many other relatives, cousins and friends fondly remember an independent and strong-willed woman. Her snappy remarks and just so attitude will be missed. A Celebration of Amber's Life was held on Saturday, January 22, 2022 from 1-5 pm at Bakken-Young Funeral & Cremation Services 728 S Knowles Avenue New Richmond, WI. Arrangements are with Bakken-Young Funeral & Cremation Services.
Click here to watch the livestream of the visitation for Amber.