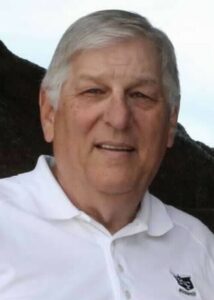 Roger Hirstein, age 82, passed away on Monday, January 2, 2023. He was born the son of Albert and Lena Hirstein on December 23, 1940 in Decatur, IL. Roger grew up in Macon, IL graduating from Macon High School, class of 1958. He graduated from UW-Platteville with a BA and Master's degree in Education. Roger taught and coached high school basketball and cross-country for eight years in both Dodgeville and River Falls, WI. He later worked for 3M as a national sales manager in the Commercial Graphics division for 27 years. Roger married Ruthann Alexander on August 1, 1964 and they later divorced in 1985. They were blessed with three children, Rich, Paula, and David. Roger later married Dellene "Del" Cipra on November 12, 1988 in River Falls. Roger's children grew to five with the inclusion of Del's two children, Tracee and Scott. Roger loved golfing, coaching and teaching basketball. He helped establish the River Falls Youth Boys Basketball program. He also loved traveling to AZ in the winter and listening to music and going to shows in Branson, MO. Roger was a loving coach and very supportive of his family.
He is preceded in death by his parents, Albert and Lena; first wife, Ruthann; brother, Warner; and numerous half-brothers and half-sisters. Roger is survived by his wife, Del; children, Rich, Paula (Rick) Flood, David "Bo" (Ali), Tracee (Randy) Bishop, Scott (Kristi) Hughes; 15 grandchildren, Allie and Mariah, Macguire and Payton, Seth, Jack, Gavin, Lyla, and Jonah, Tyler, Kenny, and Jon, Jace, Kamryn, and Makenna; two great-grandchildren, Finley and Jaxson; brothers, Richard and Dennis; and many other relatives and friends.
A Memorial Service was held on Saturday, January 7, 2023 at 4:00PM at the First Congregational Church (110 N 3rd St) in River Falls with a visitation starting one hour prior to the service. Arrangements are with Bakken-Young Funeral & Cremation Services.