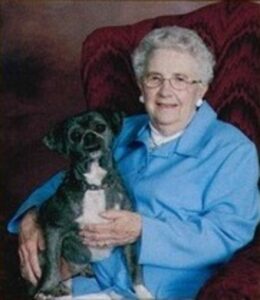 Alice Lucille (Strand) Talmage passed away peacefully on November 29, 2022, at the age of 94. Alice was born on May 17, 1928, at the family farm to parents John and Emma (Ryberg) Strand. She was their only child. When Alice was age 5, Emma died and she was raised by her father, John, and grandfather, Ole. Alice often said she was her dad's only "son," as she worked on the farm just like any boy would be expected to!
After graduating from New Richmond High School in 1947, she went to work in St. Paul at Northern States Power Company. Every weekend she took the bus from St. Paul to New Richmond, where her dad picked her up at the bus stop by the Gem Theater. She would do household chores and help with the farm on the weekends, then head back on the bus to St. Paul for work on Monday morning.
On March 29, 1952, Alice married Robert (Bob) Talmage during a brief furlough from the Air Force (he was serving in the Korean War). The newlyweds then began their long journey in military life, with their travels taking them to the East and West Coasts and parts in between, as well as to other countries. Their two sons, John and Steven, were born in Ottawa, Canada. Their daughter, Dianne, was born in Bonn, Germany.
Bob retired from the Air Force in 1968, and the family returned to their roots in New Richmond, eventually turning the Strand Farm into an active dairy operation once again. They built a log home on Strand Lake, but Alice was intent on preserving the 100+ year-old farmhouse in which she was born. She oversaw the renovation of the farmhouse, often using her own elbow grease, while caring for her father until his death in 1983.
Alice then threw herself into farm work. She loved animals of all kinds (especially dogs), and she enjoyed being in the barn. When a cow freshened, she would commiserate, saying she was having "sympathy labor pains." Bob passed away on November 30, 2007, but Alice remained on the farm until a few years ago. The farm will always be a part of her, and she will always be a part of the farm.
Alice is survived by her children: John Talmage of Kalispell, MT, Steven (Jeri Ann Zuelke) Talmage of New Richmond, Dianne Talmage (Daryl Orf) of New Richmond, and longtime former daughter-in-law Patty Burke. Grandchildren: Christi Talmage of New Richmond; Daniel (Pam) Talmage of Woodbury, MN; Karen (Andy) Ives of North Branch, MN; Mandy (Doug) Nadeau of Center City, MN; and Vicky (Ben) Talmage of Madison, WI. Great grandchildren: Anabella and Adiline Talmage, Libby and Elle Nielsen, and Ryder and Revelyn Ives. Last but not least, Charlie the dog.
A Funeral Service was held on Tuesday, December 6, 2022 at 12 noon at First Lutheran Church 218 County Road K New Richmond, WI and streamed live through the link just below this obituary.  Visitation was also be on Tuesday from 10 am – 12 noon at the church.  Interment was in the New Richmond Cemetery.  Arrangements are with Bakken-Young Funeral & Cremation Services.
Click here to watch Alice's service