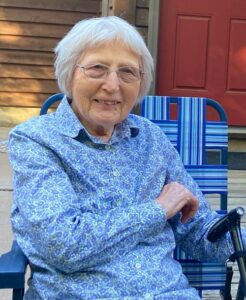 Alice Avis Hanson , age 98, of River Falls, Wi was called home on Feb 5, 2023. She was the daughter of Clarence and Ella May (Vander Ploeg) Holter. She and twin sister Avis Alice were born on Oct 22, 1924.They grew up on a farm in Long Coulee near Holmen, WI until the age of 13 when they moved to La Crosse. The girls loved being on the farm, they were horse crazy! Alice attended Logan High School graduating with the class of 1942. After graduating she and her twin went to vo-tech school for welding and then got jobs in the shipyards in Sturgeon Bay, WI working on Liberty ships being built for WWII . She then went to school to become a Medical Lab Technician where she worked in both Lincoln, Neb and Eau Claire, WI.
In 1950 she married John L Hanson of River Falls, WI. They were blessed with 6 children. Together they milked cows and later raised beef cattle on the family farm east of River Falls.
Alice was as an avid reader, interested in history, enjoyed gardening- raising the family food all her years. She was known for her beautiful flower gardens, donating many to various functions. She was also known for her delicious desserts. She was a conservative patriot, never afraid to voice her opinion…on any matter.
Alice was active in her church, a member of South Fork Ladies Aid, RF Garden Club, Home Culture Club, 4-H, Sewing club and American Legion Auxiliary (50 yrs). She was a poll worker in her township for many years and also worked as a census taker. She loved being outdoors and was an avid walker till her last days on earth.
Alice is survived by her sister Cleo Howe and her 6 children, Linda (Ed) Neuberger, Susan (Denny) Monicken, Joyce (Dave) Connolly, Larry (Mary) Hanson, Al (Christie) Hanson, Ruth (Mark Hogenson) Hanson, 15 grandchildren and 22 great- grandchildren.
She is preceded in death by her parents, husband John of 67 years, Sisters Edna Rosendale, Lornca Whitbeck, Avis Thompson and Phyllis Pischke and grandson Brett Connolly.
Visitation was held from 9 -11 on Sat. April 22th at the First Congregational Church in River Falls, WI with a Celebration of Life to follow at 11 am.   A special thanks to the folks at Wellhaven and Moments Hospice for their loving care.  Arrangements are with Bakken-Young Funeral & Cremation Services.