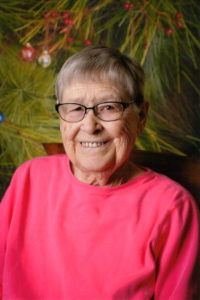 Alice L. Emerson, age 93, of New Richmond, WI, died Wednesday, January 3, 2018 at The Deerfield Commons in New Richmond. Alice was born the daughter of Edward and Doris (nee Whitney) Kiekhoefer. Alice grew up in Somerset and New Richmond Townships, going to school at Clarendon Country School, two years at New Richmond High School, and graduating Salutatorian from Somerset High School, class of 1943. Following high school, Alice began teacher's training at River Falls State Teacher's College. She became a teacher one year later, and at 19 managed her own one room schoolhouse at Landing Hill between Somerset and Stillwater. Alice taught until 1948 when she married Virgil Emerson on October 9, 1948 and became a loving wife and mother, living on the family farm. Alice returned to education during the early 1960's, teaching elementary school in Star Prairie and New Richmond, retiring in 1986.
Alice had many hobbies and passions in life. Alice was a member of Wall Street Homemakers for over 50 years.  She taught Sunday School, travelled, played cards, danced, and volunteered. She painted, gardened, sewed, and quilted. In addition to her hobbies, Alice loved her family, becoming a care-giver for many family members. She was a loving, kind, and generous wife, mother, grandmother, sister, and friend.
Alice is preceded in death by her parents, Edward and Doris Kiekhoefer; husband, Virgil; sons, Bruce and Curtiss; sisters, Marion (Ervin) Champeau, Irene (Guy) Bockman, and Elaine Elzig; and brother, Edward (Bernice) Kiekhoefer. She is survived by her daughter, Diane (Howard) Lauridsen; daughter-in-law, Pam Emerson; grandchildren, Miles (Maddy) Lauridsen, Erin Lauridsen, Micaela Ellevold, and Scott Emerson; sisters, Ramona (Virgil) Sandmann and Sandy (Jerry) Branjord; brother-in-law, Robert Elzig; and many nieces, nephews, cousins, and friends.
A memorial service was held Saturday, January 13, 2018 at 11:00 a.m. at the Deerfield Chapel (1127 W 8th Street, New Richmond, WI 54017) with visitation one hour prior to the service. In lieu of flowers, memorials are preferred to:  Aging and Disability Resource Center (1752 Dorset Lane New Richmond, WI 54017) or The Deerfield (1127 W 8th Street, New Richmond, WI 54017). Arrangements are with Bakken-Young Funeral & Cremation Services Beebe Chapel of New Richmond.