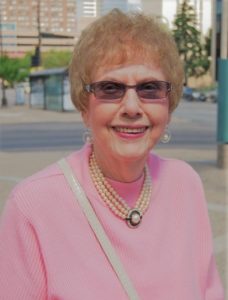 Adeline Bernice Christopherson (nee Peterson), age 87 of New Richmond, was called to her heavenly home on Saturday, March 3, 2018. She spent her last months in the gentle care of St. Croix Hospice and the loving staff at Deerfield Gables Care Center. Adeline was born the daughter of Ingval and Gena (Mickelson) Peterson on July 18, 1930, in the Town of Alden, Polk County, Wisconsin. She attended the Pine Lake School. The baby of 10 children, Adeline drew on the experience of her elder siblings throughout her youth and followed her sisters Alice, Helen, and Lillian to live in Minneapolis as a young adult. Adeline possessed many endearing personality traits, the most obvious being a quick wit and joyful sense of humor. She was at her funniest when she crossed the line of propriety, and her family loved her for it. All of her life, she was known to greet almost any task with a smile or a laugh.
In 1965 she began a new chapter of her life, yet one that needed to end by 1972. However, in the middle of this chapter, she was blessed with her greatest joy, and her life's purpose – her beloved son, Malcolm. Adeline worked hard and raised her boy as a single mother through the 1970's and 80's, creating a bond of love and respect unmatched between mother and son. In 1988, with her little boy grown up, it was time to find other companionship. She found that and more, when she was introduced to the man of her dreams, Donald Christopherson. Adeline and Don were married June 18, 1988 and shared a beautiful home filled with love for nearly 30 years.
Adeline was a lifelong member of West Immanuel Lutheran church. She loved her church family, attending every Sunday and she served and participated with her full heart, until she no longer could. Adeline had a servant's heart, and loved to host family dinners (and oh, how the family loved her cooking!), yet, just as much she enjoyed quiet moments to spend with the Lord in prayer. She truly was the prayer warrior of her family.  Our "Sweet Adeline" was a wonderful, inspiring and funny woman who will be dearly loved and missed, until we meet again in eternity. Love you, love you, love you Momma.
Adeline is preceded in death by her parents, Ingval and Gena Peterson; siblings, Idella (Albin) Walby, Clifford Peterson, Kenneth (Hilda) Peterson, Harland (Viola) Peterson, Mabel (Walter) Graese, Alice (Curtis) Johnson, Helen (Floyd) Engebretson, Melvin (Mary Jane) Peterson; and brother-in-law, Warren Hanson. Adeline is survived by her husband, Don Christopherson, son Malcolm (Jenn) Michaels, sister, Lillian Hanson; sister-in-law, June Peterson; and many nieces, nephews, relatives and friends.
A Funeral Service was held on Thursday, March 8, 2018 at 11 am at West Immanuel Lutheran Church, 447 180th Street, Osceola, WI. Visitation was also held on Thursday, from 10-11 am at the church. Interment will be in West Immanuel Cemetery at a later date. Arrangements are with Bakken-Young Funeral & Cremation Services Beebe Chapel of New Richmond.