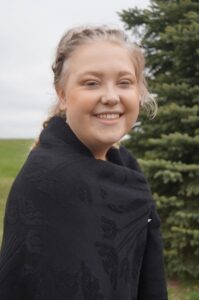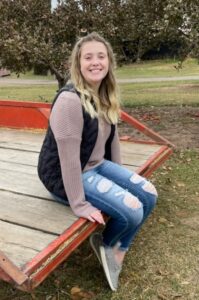 Addyson Kate Kaczmarski, New Richmond High School Class of 2024, passed away peacefully on Monday, October 23, 2023, at 2:20AM after a 2-year battle with brain cancer.
Addy was born on March 20, 2006, in Amery, WI, the youngest of four children blessed to Brian Kaczmarski and Renee Kaczmarski. Addy's blonde hair was quite a surprise as her three older siblings were true red heads. The blonde hair would be a foreshadowing of her giant personality, sense of humor, competitive nature, and overall spunk.
Addy was happiest when surrounded by friends, family, and her beloved pets. Addy had the unique ability to truly appreciate the simple things in life; things many today take for granted. Her spunk and sass became quite apparent when Addy showed flashes of her competitive side or flat-out anger. This usually manifested itself by seeing her three older siblings running away for fear of bodily harm, followed quickly by a blonde flash screaming at the top of her lungs.
Addy truly enjoyed school, made friends easily, and adored her teachers. A common trait for Addyson would be to approach the 'new kids' and become their first friend in a new school. Addy was fiercely loyal and protective of her friends, especially when she felt 'the little guy' was being picked on. To say Addy took people under her wing would be an understatement.
Addy enjoyed everything outdoors, particularly fishing and snowmobiling. She rode with a heavy thumb and her hair on fire, grinning from ear to ear. Addy fell in love with the sport of powerlifting at an early age and the team became her second family. The sport and atmosphere were a perfect fit for her competitive nature, support of others, and ability to convince others what they were truly capable of. Addy simply brought out the best in people.
Addy was diagnosed with a brain tumor in August of 2021. She faced the journey like she did with everything else, head on, in good spirits, and with her trademark smile. Regardless of good news or bad news, Addy was the first to make sure family and friends were ok before even thinking about herself. Addy's journey exposed her to some amazing angels on earth in the form of her various healthcare teams. And Addy always left her mark. Her primary pediatric neuro-oncologist often joked that clinic operations came to a halt when Addy had a visit because everyone was drawn to her.
Addy was preceded in death by her paternal grandfather, and three of her four great-grandparents. She is survived by her parents Brian, Renee (Rick Jirik), siblings Hallie, Blake and Lexi, grandparents Marlys Kaczmarski and David and Lorelei Swanepoel, along with numerous aunts, uncles, cousins, and an entire army of friends and supporters (Addy's Army). Addy will be deeply, deeply missed by all who knew and loved her, and we ask our entire community to help us keep her memory alive.
We are incredibly thankful and grateful for Addy's medical care teams at Children's Hospital Minnesota (Dr. Skrypek and team), Mayo Clinic in Rochester, University of California – San Francisco, and Adoray Home Care and Hospice (Nurse 'Cold Hands', Dani). We would also be remiss if we didn't thank our entire community for their love and support during this difficult time.
A Celebration of Addyson's Life was held on Monday, October 30, 2023, at 11 am at Faith Community Church 1040 Paperjack Drive New Richmond, WI.  Visitation was on Sunday, October 29, 2023 from 4-8 pm at Faith Community Church and again on Monday from 9-11 am at the church.  Please dress casually, Addyson's favorites were jeans and flannel or hoodie.  In lieu of flowers, memorials are preferred.   Arrangements are with Bakken-Young Funeral & Cremation Services.
Click here to watch the recording of Addyson's service