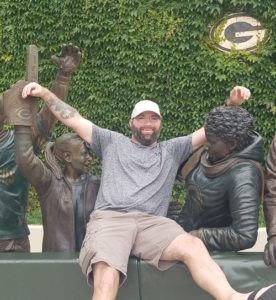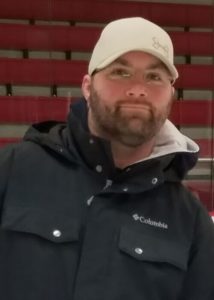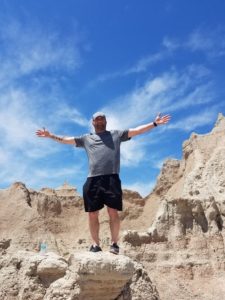 Aaron Nerby, 40, of River Falls, WI passed away unexpectedly on Sunday, November 22 at his home. Aaron was born the son of Daniel and Kimberly Nerby on October, 17, 1980. Aaron grew up around Hudson, WI where he enjoyed being with his friends and family, running around his grandparents' woods with his cousins and playing hockey. Some of his fondest memories were at Perch Lake fishing, camping, and swimming. He enjoyed bow hunting and being in the woods. He loved going up to the cabin in the fall with family for rifle opener. Aaron attended Hudson High School and was class of 1999. He had a tight group of friends with whom he developed life-long relationships.
Aaron had an easy way about him. He met new people and friends every where he went. He began working at Barker's Bar & Grill when he was a teenager—starting as a dishwasher, a line cook, and working his way up to kitchen manager. He had a special gift of cooking and entertaining at the same time. When Aaron was working the restaurant was always full. He made the best wings in town. Aaron continued to work there until he was in his 30's. The Barker's crew was family and the many faces that he met either as co-workers or customers continued as friendships even after his departure in 2014. From there he went on to work at Cardinal Glass in Hudson where he continued to meet new friends through his genuine and positive personality.
Barker's is where he met his wife, Marcy. They developed a deep love and friendship and were married June 4, 2005. They have two children, Grady and Greta. His son, Grady, will always remember the time spent bowling, playing games, and making origami and friendship bracelets with his dad. Greta loved playing games and sharing her love of horses with her dad. Both children credit their "good taste" in music to Aaron. Their love of Rock n' Roll is a result of his influence, often playing his guitar with them and teaching them chords. Aaron's greatest love was that of his children. He cherished the time he had with them.
As Aaron grew, so did his passion for the Packers. He always looked forward to the fall when he could cheer on his team. Every year he'd say, "We're going to the Super Bowl!!!" He had a life-sized Brett Favre cut-out that he "watched" the games with until his hero betrayed him by going to the Vikings and Aaron tackled him to the ground—destroying the cardboard hero. Eventually, he forgave Favre with that same love and understanding he provided to others. In 2011 Aaron trained and completed his first Triathlon with help from his mentor and friend, Pete Foster. Aaron also enjoyed volunteering at Shepherd of the Valley Church by making popcorn for the Sunday School classes and as a greeter for Sunday morning services. Aaron coached his son's softball team and was Greta's biggest fan at cheerleading. Aaron was a talented woodworker, chef, softball player, guitarist, and listener. He also had a sweet tooth and you could always find chocolate stashed away in a drawer or his car. He passed this love down to Greta who could live on chocolate if given the chance.
Over the past two years Aaron became active in the 12- step community. He shared his personal struggle with others in an effort to let people know they are not alone. His ability to share his story has touched countless lives. He genuinely wanted to help others. He was proud to say he was a friend of Bill W.
Aaron is preceded in death by his father, Daniel Nerby and all of his grandparents. He is survived by his wife of 15 years, Marcy; son Grady age 10; daughter Greta age 8; mother Kimberly Nerby; sister Jennifer Halle; and many beloved aunts, uncles, cousins, nieces, nephews, and friends.
A memorial service for family was held on Sunday, December 20, 2020 at 1:00 pm at Shepherd of the Valley Church in Afton, MN.  A reception open to all friends and family will follow the service at Barker's Bar & Grill, downtown Hudson beginning at 2:30 pm on Sunday the 20th.  In lieu of flowers, memorials are preferred.
A celebration of Aaron's life will be scheduled this spring in which all friends and family are encouraged to attend.
 Arrangements are with Bakken-Young Funeral & Cremation Services.