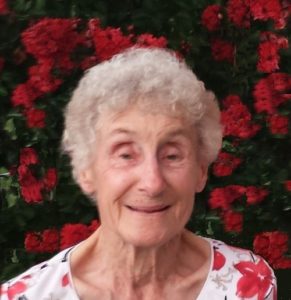 Betty J Meyers went to her heavenly home on Tuesday, Apr 30. Betty had been living with James and Chris Meyers in Texarkana, TX since June, 2017.
Betty was born and raised in Iowa where is met and married Edward Meyers on March 17, 1932. They soon moved to Wisconsin where they raised their 3 children.
She is survived by her children, Charlene Eleves (Bill) of Owasso, OK, James Meyers (Chris) of Texarkana, TX and Mark Meyers of Wheeler, WI.
She has 4 grandchildren, Shennica Maxwell of Wasilla, AK, Jamie Cobb of Brooklet, GA, Timothy (Jennifer) Meyers of Brandenton, FL, Ryan Meyers of Wheeler, WI and 6 grandchildren.
A Memorial Service will be held at First Baptist Church in Woodville, WI on Saturday, June 1st at 11 am.