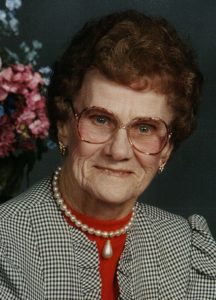 Mabel Mary ( Peterson ) Graese age 97 was called to her heavenly home on May 23, 2017.   Mabel resided at The Deerfield Gables the last five years.    As a young lady she worked for Olaf Olson in Star Prairie.   She had met Walter Graese through brothers and sisters.   Walter served in the Army branch and upon his return home after WWII they married on June 15, 1946.    Mabel and Walter had two daughters – Julie and Carolyn.    They farmed where Mabel became a wonderful gardener loving her vegetable gardens and many flower gardens.  She was a stay at home Mom while the girls were young and once they started their high school years and older did she go out to work again.   She worked for Blanca, Arsonal, Pine Cone Factory making wreaths.
Mabel was a life-long member and the oldest member of West Immanuel Lutheran Church, where her faith enriched and encouraged her to be very active in the congregation.
Walter and Mabel retired to Roberts in 1993 to be nearer to their daughter Carolyn and Wayne and their family.     Family was very important to Mabel and she enjoyed visiting and being with her large family, as well as her grandchildren.
Mabel is survived by her daughter Julie (Jerry) Glenna, Son-In-Law Wayne Korbel, Sisters Lillian Hanson, Adeline (Don) Christopherson, Sister – In – Law June Peterson.
Grandchildren:  Troy Korbel, Chad (Ashley) Korbel, Daniel (Marti) Korbel, Crystal (Mark) Meser.
Great Grand Children: Trenton, Tyler, Caleb, Alex, Mason, Allison, Halee, Michaela, and McKenzie.  Many nieces and nephews.
Preceded in death by:  Husband Walter Graese, daughter Carolyn Korbel, Parents Gena and Ingval Peterson.  Brothers:  Clifford Peterson, Kenneth (Hilda) Peterson, Harland (Viola) Peterson, Melvin (Mary Jane) Peterson.   Sisters:  Idella ( Albin) Walby, Alice (Curtis) Johnson and Helen (Floyd) Engebretson; brother-in-law, Warren Hanson.
A funeral service was held Wednesday, May 31, 2017 at 11:00 am at West Immanuel Lutheran Church in rural Osceola.  Visitation was also Wednesday from 10-11 am at the church.  Interment was in West Immanuel Lutheran Church Cemetery.  Arrangements are with Bakken-Young Funeral & Cremation Services Beebe Chapel of New Richmond.